300W LED Grow Light 2 Pack, Full Spectrum Grow Lamp for Indoor Plants, Waterproof 72pcs LEDs, Sun LED Plant Growing Lighting
【FULL SPECTRUM】Equipped with 72pcs LEDs: 46pcs red, 11pcs blue, 2pcs IR, 11pcs white, which is similar to the sunshine, the grow light can provide useful wavelength for all kinds of indoor plants at all growth stages.
【GROW FASTER & MORE OUTPUT】Olafus LED grow light will produce Red, Blue, IR light for plants. Blue light can promote the growth of plant roots and stems. Red light can promote plants to grow faster and flowering. Your tomatoes, potatoes, succulents will grow faster and more harvest.
【WIDE APPLICATION】This 300W LED Plant Grow Light is IP66 waterproof and suitable for indoor and outdoor use. Full Spectrum ensures it is ideal for many plants, such as potatoes, tomatoes, lettuces, strawberries.
【EFFICIENT COOLING & NO NOISE】Made of heavy duty die cast aluminum housing, which is more efficient for heat dissipation and can prolong the light lifespan to 50,000 hours.
【EASY INSTALLATION】You can install the gorw lamps by many ways: hanging by the metal rope or the bracket; mounting on the wall. We are professional light manufacturer, if there is any problem with this product, we will try our best to help you solve it.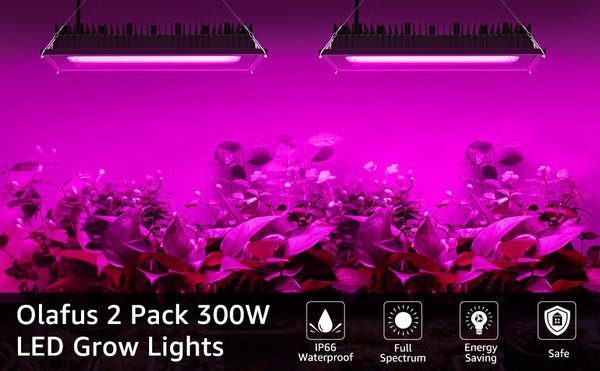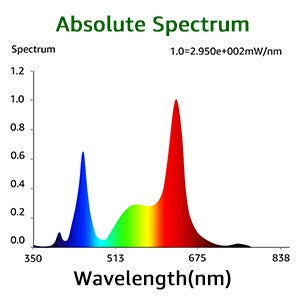 Sun light-Full Spectrum
Olafus full spectrum grow light contains all kinds of light that plants need at all growth stages.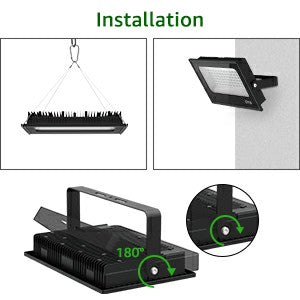 Multiple Ways to Install
Hanging by the metal rope or the bracket.
Mounting on the wall.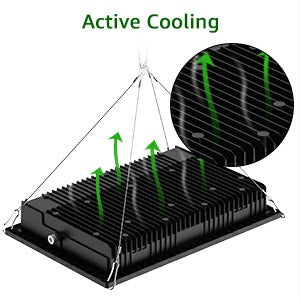 Die cast aluminum material and fin design, make the grow light easy to dissipate the heat.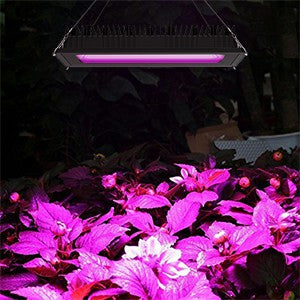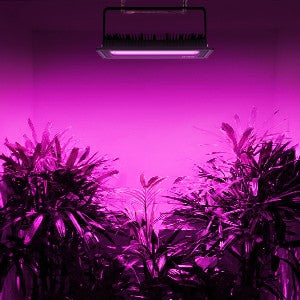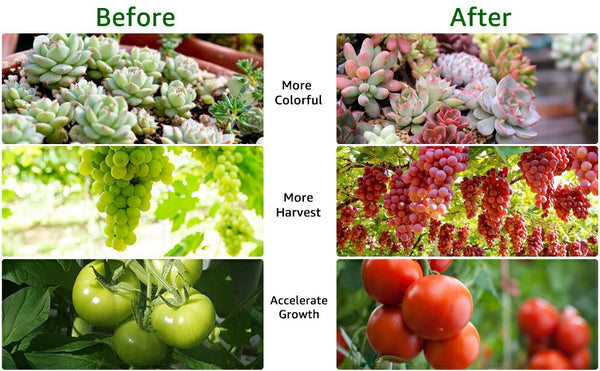 Specification:

Consumption Wattage: 60W

LED QTY: 72 LEDs

Input Voltage: 100-240V AC/60Hz

Beam Angle: 120 degrees

Type of Blub: LED

Average Life: 50,000 hours

Recommended Time & height:
Germination Stage:
8-12 Hours / Hanging at 45-35 cm
Seeding Stage:
12-14 Hours / Haning at 35 cm
Veg Stage:
14-16 Hours / Haning at 35-25 cm
Flowering/Fruiting Stage:
14-18 Hours / Haning at 10 cm  
Package Contents:
2 x LED Grow Light
2 x Hanging Hook
2 x Pack of Mounting Nails
2 x User Manual