Outdoor Bluetooth Speakers
SPECIFICATION
Wattage: 25W
Input Voltage(Power Adapter): 100-240V AC
Frequency(Power Adapter): 50/60Hz
Output Voltage(Power Adapter): 15V
Output Current(Power Adapter): 2A
Battery Capacity: 6600mAH
Charging Time: 3 Hours
Stand-by Time: ≥300 Hours
Play Time: 20 Hours at Medium Volume
Full Volume with Mood Light: 10 Hours
Frequency Response: 20HZ-20KHZ
Bluetooth Version: Above 4.2
Bluetooth Range from Speaker to Music Source Device: 30ft
Bluetooth Range between the Paired 2 Speakers: 100ft
SNR: ≥85dB
【DYNAMIC, POWERFUL 25W SOUND FOR INDOORS & OUTDOORS】- Each bluetooth party speaker has 25 watts of output power. Deep bass and clear treble realized through dual 3-inch full-range drivers and dual 3-inch bass radiation basin. You can connect 200 pack Olafus SYNC enabled speakers simultaneously under 1 Bluetooth connection. Amplify the party in the hall, backyard, patio or by the pool.
【SUPPORT 200 SPEAKERS PAIRED & SHARED AUDIO AND LIGHT TO AMPLIFY THE PARTY】- 5.8 GHz Frequency WiFi technology means multiple speakers can be connected in order to achieve a true stereo effect. Comes with 2 pack wireless outdoor speakers. When they are paired, one becomes the left channel and the other becomes the right. Music and light will be synchronized. You can control the 2 speakers under 1 Bluetooth connection. Bring you the true stereo sound experience! Support 200 speakers together!

【YOU DECIDE - WIRED OR WIRELESS SPEAKER】Outdoor Bluetooth Speakers - Bluetooth 4.2 ensures instant pairing and connection to any Bluetooth devices without the hassle of wires, apps. No Bluetooth devices? No worry! With the 2 supplied 3.5 mm auxiliary cables, simply connect to an iPhone, Android, Tablet, PC, TV, Amazon Dot or Mac.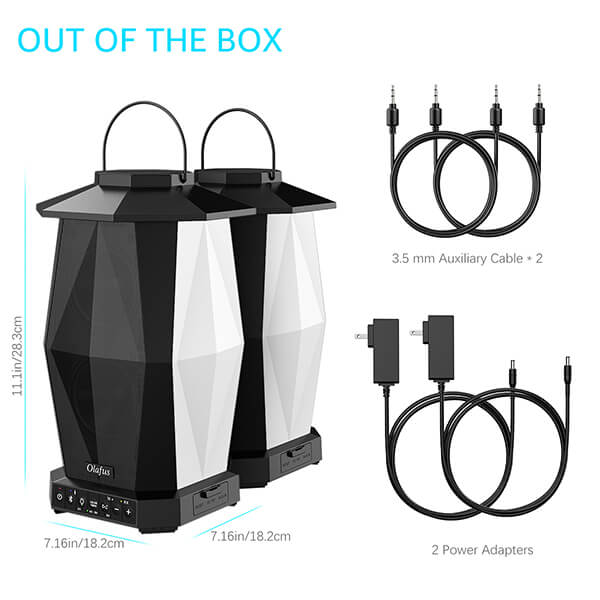 【LONG PLAYTIME & IPX5 WATERPROOF】- After 3 hours charging, enjoy 10 continually hours of seamless music at full volume. Loud enough for your gatherings. Put on a thrilling rock party indoors or outdoors!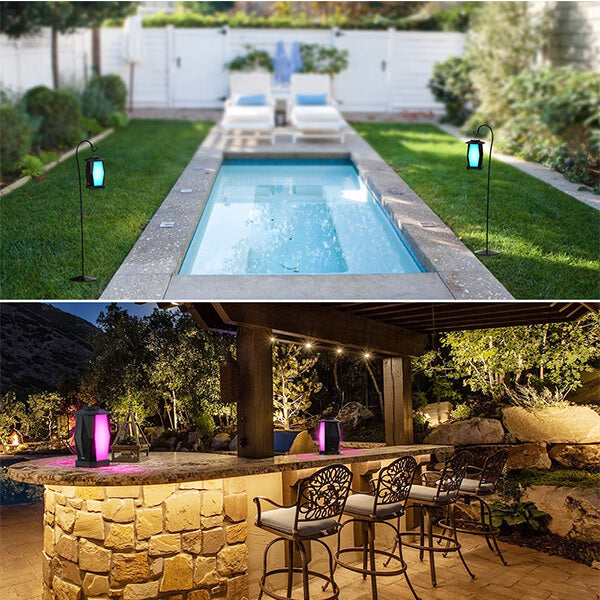 【5-YEAR WARRANTY AND 60-DAY MONEY BACK GUARENTEE】- Bluetooth wireless speaker turns into a decorative garden lantern with 8 colors changing LED light and 5 timer settings. The colors rotate through red, dark blue, light blue, amber, green, purple, pink and white or select individual color you like. It's dimmable. Each light has a timer setting( 2h, 4h, 6h, 8h or continuous on/off). Serves as lighting and decoration for garden, patio, porch, yard, wall, table.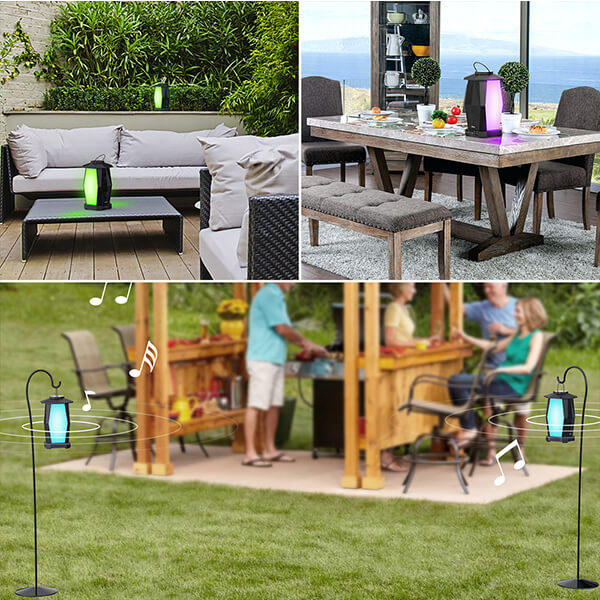 Take Your Listening Experience to the Next Level!
Compared to the 2.4 GHz frequency, our Bluetooth speakers are functional at a 5.8 GHz frequency WiFi technology. It provides wider coverage than that of with the 2.4 GHz frequency. There is so much room in 5.8 GHz band, thus, you can connect 200 wireless outdoor speakers under 1 Bluetooth device.
How to Pair the Two Outdoor Bluetooth Speakers?
The critical thing is not to connect your device to the speaker first -- you need to connect the speakers to each other.
1. Turn on a primary Olafus Bluetooth speaker. Press SYNC button until the "TX" indicator light up. Let's call this one the " General ".
2. Turn on a second Olafus Bluetooth speaker. Press SYNC button until the "RX" indicator light up too. Let's call this second one the " Soldier ".
3. The "General" will search and connect itself to the "Soldier". You'll hear a chime when it does.
4. Activate your Bluetooth settings on your device, and search for/connect "OLAFUS-01SK" to only the "General" speaker.
5. Play your favorite song. And the "Soldier" speaker's music, light will sync up with the "General" speaker's. They will play true right channel / left channel audio, giving you an amazing wireless stereo sound experience!
Olafus Bluetooth Connection: Connect 1 speaker alone. Or you can use a single Bluetooth audio source to connect the 2nd, 3rd, 4th, 5th up to 200th Olafus wireless outdoor speakers at the same time for true wireless stereo sound. This will turn your home into a mini-concert. Enjoy Wireless Surround Sound at home!