25W RGB Flood Light 2 pack
DIY Multicolors: Flood Light Bulbs, 20 different colors are available, it offers you 6 kinds of color changing patterns, including flash, jump, fade and auto etc. You can easily set different color and pattern to match your theme and mood.

Remote Control & Memory Function: 25W RGB LED Flood Lights with 44-Key remote controllers, Timer, memory function.The color and mode will be memorized, and there is no need to reset it next time you use it. Brightness and speed are adjustable. It is possible to make flood lights last 3/6/12 hours with the timer buttons.

IP66 Waterproof: IP66 weatherproof rating can ensure the exterior lights work properly no matter rain, snow, heat or cold environment. Ideal for lighting up the trees, house wall, yard, backyard, patio, garden, lawn, landscape.

Innovative Cooling & Easy To Install: The innovative heat dissipation can prolong LED lifespan to 30,000 hours. This is approximately 8 years of illumination(10 hours per day). With adjustable bracket, no wiring is required, just plug in! Can be installed on the ceiling, wall, floor, etc.

Widely Used: Our Landscape Lighting perfect for indoor and outdoor, such as party ambient lighting, stage, wedding, yard, garden, landscape, tree. Use the color led lights all season for different events, Halloween, Christmas, Lent and so on.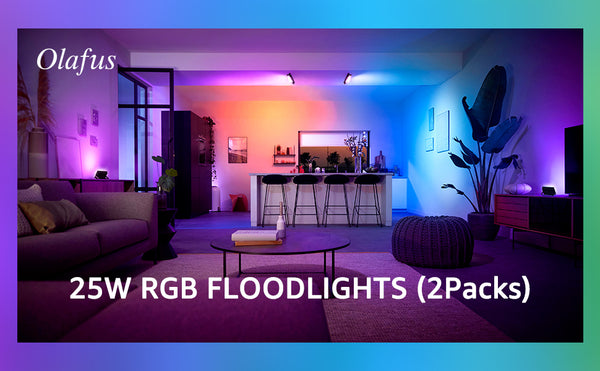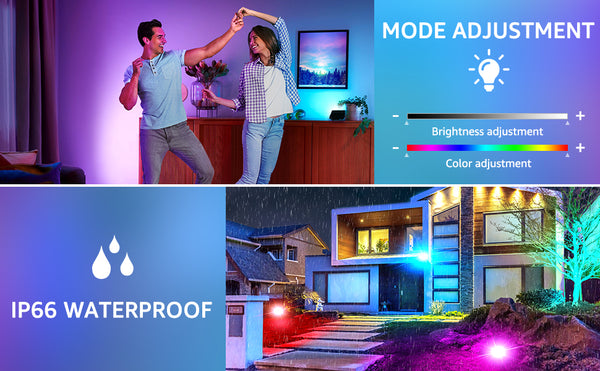 Remote control
Use the remote control to adjust brightness and color as desired. Dozens of colors, six modes and 30 adjustable speeds are available for you to choose from, which can meet the needs of most of the place.
IP66
The protection level IP66 allows you to use it outdoors without fear of snow and rain, guarantees the service life of the product and greatly expands the use space.
DIY
Our latest 44-key remote has three DIY archives. Press ↑ ↓ to adjust the ratio between red, yellow and blue, and save it when you find the color you like. In the future, just press the DIY button to immediately switch to the set color. A total of 17 * 17 * 17 colors are adjustable, totaling more than 4900, which can meet all your color requirement.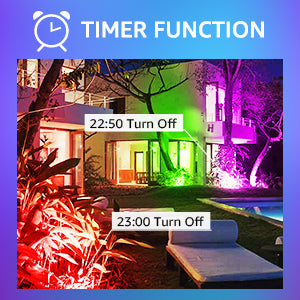 TIMER FUNCTION
It can be set to automatically turn off after three, six or twelve hours to meet your needs flexibly.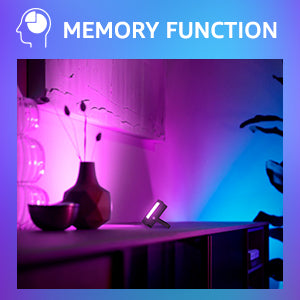 MEMORY FUNCTION
Each time you turn on the flood light, it will automatically restore the settings when it was last turned off. Accurately remembering your favorite colors and modes.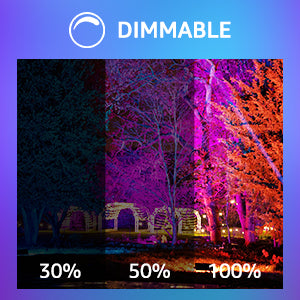 DIMMABLE
Different brightness can be adjusted to create different atmosphere.